The LeRois began when Don Leady and Steve Doerr met in Cool Valley, Missouri, where they were auditioning for a band that neither wound up joining. They immediately realized that they could only play with each other, and so began a partnership that lasted nearly twenty years, on the stages of honky-tonks, on the streets, and in folk clubs in the Midwest. At one point they came to Austin, Texas and discovered that it was a real nice place with lots of clubs, information that came in handy not long afterwards.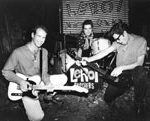 In 1981 they were living in Fort Worth when local entrepreneur Jim Yanaway needed a band to back the Legendary Stardust Cowboy on his Rocket to Stardom album. Don and Steve agreed to give it a shot, and at the sessions they met Mike Buck, who had just left the Fabulous Thunderbirds and was in Fort Worth cooling off. He fell right into the groove, and talked them into moving to Austin to help him put a band together. There, they met bassist Alex Napier and vocalist Lou Ann Barton, and played the clubs as either the Headhunters or Lou Ann and the Fliptops.
Lou Ann was being courted by Elektra Records, and Don and Steve realized they had a lot of their own stuff they'd like to do, so the band became first a four-piece and then, when they made the radical move of firing Alex, a two-guitars-and-drums outfit. The raw, crazed, infectious sound of this set-up began drawing fans to the band (now officially named the LeRoi Brothers), and they cut an EP for Amazing Records, "Moon Twist," and, with help from Fabulous Thunderbird bassist Keith Ferguson, an album for Jungle Records, Check This Action. Both immediately became underground hits, and the LeRoi legend grew in the U.S. and Europe. Critics stood in line to praise the band, and they found more praise coming from their fellow musicians, people like Rank and File, the Blasters, and X. Trips to both coasts showed that this was no fluke: crowds came and stayed to bop.
Reluctantly adding a bassist, they kept up a constant schedule of gigs, both in Austin and on what they call "the McDonald's and Motel 6 circuit," in the Midwest. Then Steve's brother Joe "J.D." Doerr arrived in Austin, and the band had another singer and a teen heart-throb. "We like him," says Steve. "He sings a few numbers and then he goes through the purses on the dance floor so we'll have gas money."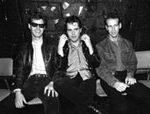 The band went through several bassists before settling on Jack Newhouse, a veteran of several Texas bands including Anson Funderberg and the Rockets and Stevie Ray Vaughn and Double Trouble. For once, the LeRois' were able to find someone who not only played their kind of bass, but was just as crazy as they were. Considering his background with some of Texas' most rough-and-tumble outfits, it's quite a testimony that Jack proclaims the LeRois' "the rowdiest band I've ever played with."
With the lineup solid, the band's buzz got to the ears of some major record labels, and Columbia Records was the first on the scene. After catching a typical near-psychotic performance at Austin's legendary Continental Club, an A & R man went back to New York and told them the story of a show some nights earlier, where J.D. had executed a typical wild dance move and, instead of bouncing off the wall as he'd intended, he went through it, and the band was banned by the club forever. (The club went out of business not long after that, although the band denies any involvement in voodoo or black magic to make it happen.)
Eventually, the LeRois' recorded an EP for Columbia, Forget About the Danger, Think of the Fun, and did two exciting videos, "Pretty Little Lights of Town" and "Treat Her Right," the old Roy Head classic. But for some reason the record never took off the way the fans had hoped, and Don Leady, impatient to try other avenues for his ideas, left the band.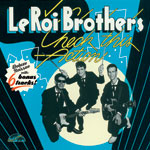 The LeRois' then cast about for someone crazy enough to try to step into Don's shoes, a madman dedicated to rocking and rolling to the very last drop. In fact, the guy they found was so crazy that he turned them down when they asked. Although he was so poor that the LeRois' had to call his next-door neighbor, Evan Johns was happy playing the bars in the Washington, D.C. area. "I had a tape I'd just made, and I said, 'Well thanks, I'm flattered, but I'm going to get my own deal.' I went home to think it over, and I suddenly thought, hey, this is my ticket outta here!" A veteran of the same circuit that produced such guitar legends as Roy Buchanan and Danny Gatton, Johns fit right in with the band, and has contributed dozens of new songs to the LeRois' repertoire, as well as a dynamic on-stage presence.
Today, the LeRoi Brothers are rockin' and rollin' as hard as ever. In a world increasingly dominated by fashion and trends, they're reminding people of the great eternal values that are at the bottom of rock 'n' roll. There's some rockabilly flavorings, a dash or two of rhythm and blues, and maybe just a pinch of country, but what you're hearing, every minute the LeRoi Brothers are on stage or on your turntable, is rock 'n' roll. Because when all is said and done, that's really the only thing you have to know.
Listen/Buy – Check This Action + Moon Twist + Bonus Tracks.
www.facebook.com/LeRoi-Brothers-263019649175/
www.facebook.com/junglerecordstx/
Contact the Jungle
junglebruce@jungletx.com
512-653-3785