Born in McLean, Virginia, raised in the fertile folkie scene in Washington, D.C., Johns' career has been a never-ending process of sopping up native sounds–folk music, if you will–and chewin' 'em up and spittin' 'em out as brand new Dixie-fried originals. Sears Silvertone and Fender Telecaster are the guitars of choice. The musical mood swings wildly from muddy Delta river bottom blues, coon-ass swamp rock two-steps, moving tributes to Sergio Leone, and over amped shout 'n shimmy breakdowns–all washed in a California surf reverb frenzy. The voice takes the pinball approach, likewise. Am I hearing Frogman Henry or Iggy Pop? I think I'm hearing plain old Evan, who like his idol, the late Ernest Tubb, "Sure does always sound like hisself", as Mr. Johns puts it.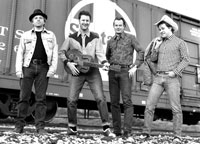 The world has plenty of "roots-rockers" who developed their styles by listening to old and rare recordings. Few are those who did their fieldwork directly with the source. As a kid, Evan hung out with Mance Lipscomb, Mississippi John Hurt, the Rev. Gary Davis, and a host of other then-living legends at the annual National Folklife Festival in D.C.
Evan before he could vote, had hitched coast-to-coast eleven times, hopped several freight trains bound for nowhere, and started making a name for himself as a musician, learning many of the basics of the trade from local DC hero Danny Gatton. By the late seventies, he was a key player in Washington's live music scene, dueling with fellow maniac Billy Hancock and plotting Parisian conquests with Tex Rubinowitz. In 1980, he put together the H-Bombs and released Giddy Up Girl an independent 10″ EP. But after putting in ten years of schooling in D.C., he finally opted for a change in scenery.  (Giddy Up Girl – https://evanjohnsh-bombs.bandcamp.com/album/giddy-up-girl )
His ticket on the outta town was a phone call from Austin's Leroi Brothers early in 1984. They'd just finished an album for CBS and needed a guitarist to help them tour behind the record. Noting Evan's kinship with their trashabilly sound, he put the H-Bombs on hold and went on the road with the Lerois, crisscrossing North America and Europe for a year and a half.
Between gigs, he settled down in Austin, a traditional haven for guitars slingers and crazed bands. Even with the increased competition, Evan's overkill attack and loopy personality singled him out as a Man About Town. Early in 1985 he was asked to join an elite all-star recording session with three other noted guitar stylists–Don Leady, Frankie Camaro, and Denny Freeman–for a one-off LP titled Trash, Twang and Thunder: Big Guitars from Texas for Jungle Records. The project unexpectedly thrust Johns into the national limelight when an instrumental song from the album, "Guitar Army", was nominated for a Grammy Award in 1986. (https://bigguitarsfromtexas.bandcamp.com/album/trash-twang-and-thunder)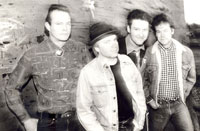 The Big Guitars project only renewed Evan's determination to front his own show again, so in late 1985, he resigned from the Leroi Brothers and convinced the H-Bombs to join him in Austin. It was an easy decision for bassist Ivan Brown, the Hot Springs, Ark., native and childhood friend of twenty plus years and an H-Bomb for five. Mark Korpi, the dueling guitarist from Manassas and a vet was ready to reenlist. Drummer Jim Starboard, raised in Newport News, VA was equally familiar with what he was getting into since he'd done time with Evan's DC cohort Tex Rubinowitz.
The Wildman guitarist and band made his album debut, Evan Johns & the H-Bombs, on the award-winning Jungle Records in 1986. That release showcased Johns in his own element–picking, singing, and writing the songs. His distinctive, unreconstructed Southern black cat moan and extensive roadhouse schooling had established him as a force to be reckoned with in international music circles. The album further enhanced that reputation and revealed his heretofore unheard-of abilities on Vox organ as he ventured into Tex-Mex and other Southwestern regional styles. (The Jungle Record – https://evanjohnsh-bombs.bandcamp.com/album/the-jungle-record)
(Please Mr Santa Claus – https://music.apple.com/us/album/please-mr-santa-claus/580565802)
The migration from one extreme of the South to the other made perfect musical sense for a rock 'n roll realist. The band finally found the perfect spot for merging live gigs with the chance to make records on a regular basis. "It's a lot more competitive here," Evan said. "This town's got 600,000 (1980s) people and a whole lot of musicians whereas Washington has two and a half million and a lot less pickers." The environment had rubbed off on the H-Bombs as evidenced by the Tex-Mex roller rink Vox organ riffs he plays on several tunes. The band stayed sharp working clubs around town. They were the house band of sorts at the legendary Black Cat Lounge (circa mid '80s) where you play for tips, and they backed Eugene Chadbourne, the bizarre founder of the group Shockabilly, on a solo album.
Contact the Jungle
junglebruce@jungletx.com
512-653-3785