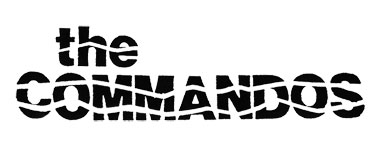 The founding members of the Commandos, Suzy Elkins and Gerry "Phareaux" Felton, trace their musical roots back to the eighth grade in Hattiesburg, Miss.
Phareaux was playing guitar in a band called the Nitelites, which once performed "Boney Maroney" eight times in a row during a talent competition. He gave Suzy lessons using his Sears Silvertone box guitar as he started down the path of both rock'n'roll and rhythm'n'blues. Later, as guitarist for the band Omar and the Howlers, Phareaux received his nickname from legendary Austin, Texas, bluesman Omar Dykes, also a Mississippi native.
When she met Phareaux, Suzy was an aspiring folksinger whose group, the Slow Risers, played its first gig at a newspaper delivery boys' party. Sharing a common passion for the Beatles, the two became close friends, even while their paths diverged. Prior to settling in Austin for the second time in 1982, Suzy was a vocalist for the Drapes, a Southern Mississippi-based band which included eventual LeRoi Brothers guitarist Rick "Casper" Rawls; bandleader, guitarist and singer Webb Wilder; and future Omar and the Howlers drummer Gene Brandon.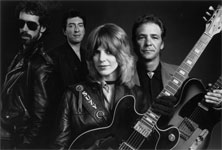 Suzy and Phareaux were members of the Austin-based band Eveready during the mid-70s, but had never fronted a band together prior to forming the Commandos in 1982. They began writing songs together while in Eveready, and accelerated their creative passion after forming the Commandos. Many an hour was spent creating and honing the tunes that became staples of the Commandos live shows and studio recordings. Suzy said, "Phay could do what I couldn't do, and I could do what he couldn't do, so it was a good fit."
After the Commandos rocked hard for four years they disbanded. Suzy moved back to Mississippi, after the birth of her son, where she played in bands, including The Viewmasters and F-Troop and worked in an academic library for twenty-some years. Phareaux moved west with his wife Linda to Albuquerque where he set up his own home studio. He then called himself "Phay West" and "Phay of the West Pole." A few new songs were recorded there when Suzy came to visit.
Phareaux passed in January of 2007 after a heart attack at his home. Suzy made a promise to herself and Phareaux to get the music out there.
Years have gone by, and the time has come to revisit the Commandos' music. They hope you will come too. Close your eyes when listening and be transported back to Austin, TX on a hot, sweaty night in 1983.
The Commandos FB – https://www.facebook.com/The-Commandos-317351312330428/


Contact the Jungle
junglebruce@jungletx.com
512-653-3785